"Human! Sculpture" brings together 12 entirely different sculptural approaches to the human body. The exhibition explores the different paths along which three-dimensional representation of the body has developed, from realism right up to the abstract. Visitors have the opportunity to clearly trace and understand this development by seeing and comparing artistic representations of the body through history and movement.
The exhibition presents a diverse selection of about 60 sculptures in stone, bronze, and terracotta, grouped by pose and subject, such as standing, seated, recumbent or dancing, or focusing on parts of the body, such as the head or hands. The exhibit brings together sculptures that are kindly on loan from museums and private collectors in Germany, France, and Switzerland, and includes works by Auguste Rodin, Edgar Degas, Wilhelm Lehmbruck, Alberto Giacometti and Henry Moore.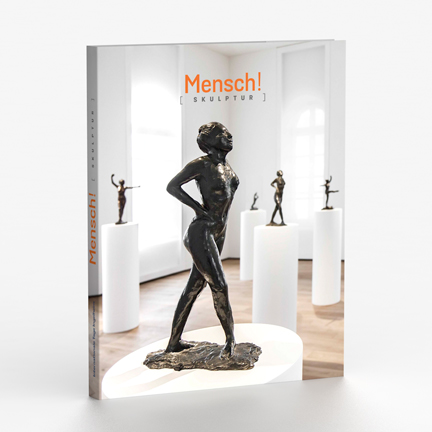 Mensch! Skulptur
Format: 25 x 20 cm, 148 Seiten, herausgegeben von Ulrich Luckhardt. Mit Texten von Siegmar Holsten und Wolfgang Voigt und einer fotografischen Dokumentation der Inszenierung der Skulpturen im Kunstforum Ingelheim – Altes Rathaus.
Preis 19,50 €
Order catalogue >