Von Liebermann bis Nolde.
Impressionismus in Deutschland auf Papier
5 April to 15 June 2014, Altes Rathaus, Ingelheim
21 June to 28 September Ernst Barlach Haus, Hamburg
The phenomenon that is German impressionism has been the subject of many exhibitions. To date, however, the focus has almost always been on painting and its French role models. But the groundbreaking function of impressionism for the development of modernism in Germany is an important aspect. This is illustrated in particular in works on paper, in drawings, watercolours, gouache, crayon and prints, as well as in photography. The unacademic, dynamic landscape sketches reflect the desire for artistic freedom. The dissolution of the subject in movement and light also helped Germany to overcome naturalism. In this way, the impressionists blazed a trail for the abstraction and expression of modernism.

The exhibition brings together around 150 rarely seen works on paper dating back to the period between 1880 and the 1920s. The selection of artists is not limited to the three big names that invariably come up in this context – Max Liebermann, Lovis Corinth and Max Slevogt – but also takes in artists including Lesser Ury, Maria Slavona, Otto Modersohn, Christian Rohlfs, Arthur Illies, Thomas Herbst, the photographer Heinrich Kühn, and more besides. To document the extent to which direct work on paper paved the way for the development of impressionism in painting in Germany, a number of paintings are also included in the exhibition.

The exhibition will subsequently be displayed at the Ernst Barlach Haus in Hamburg as a project of the Boehringer Ingelheim International Days (29 June to 21 September 2014).

From 4 May 2014, the Mainz State Museum will be home to the exhibition "Max Slevogt – Paths to Impressionism".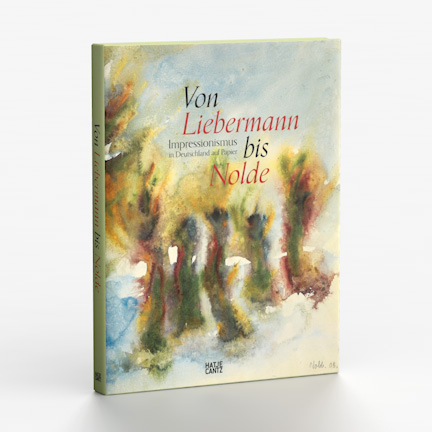 Von Liebermann bis Nolde
23 x 31 cm, 223 Seiten, mit einem Essay von Dagmar Lott-Reschke und Texten von Frank Möbus, Ulrich Rüter, Friederike Schmidt-Möbus und Lisa Schmökel. Erschienen im Verlag Hatje Cantz.

Preis 29,80 €        (im Buchhandel 35,- €)        Order catalogue >

Max Liebermann
Monte Oliveto Florenz (Dächer in Florenz), 1902
Pastell auf Papier, auf Pappe aufgezogen
Privatsammlung
Emil Nolde
Acht Bäume, 1908, Aquarell
© Nolde Stiftung Seebüll
Foto: Elke Walford / Dirk Dunkelberg
Anna Gerresheim
Mond (über Buschgehölz), um 1903
Farb. Radierung, 20 x 50 cm (Platte)
Privatsammlung
Lovis Corinth
Selbstbildnis, radierend, 1920/21
Radierung, 31 x 23 cm (Platte)
Kunststiftung Bönsch